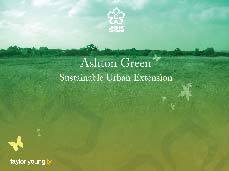 Adam Broadway is the sustainability advisor to the Ashton Green Masterplan. Ashton Green masterplan seeks to deliver Leicester City Council's One Leicester vision as being the exemplar mixed use sustainable urban extension for Leicester City. The masterplan received outline planning approval in December 2010.
Representing Beyond Green, Adam works with the leading urban renewal agency Taylor Young. He is advising the Ashton Green project team on the sustainable production of a 3,500 homes Masterplan on the 130 ha site in North West Leicester, Ashton Green – a large Greenfield site owned by Leicester City Council (LCC) which has previously had a number of failed proposals.
Adam also leads the inclusive stakeholder and public consultation exercise for the Masterplan.
Current outcomes of the project include:
Adoption of bespoke project vision
Embedding sustainability principles within the project
Successful stakeholder engagement
Endorsement by LCC cabinet of project direction
A wide ranging inclusive and public open consultation process
Masterplan review
Outline planning application early 2010
A major public consultation exercise has been completed in November. Further work on refining the masterplan will take place in early 2010, leading to an outline planning application being submitted in spring 2010.