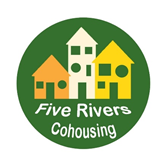 Instinctively Green were appointed by Five Rivers Cohousing Group following a tender process in late 2019.
Our role was to provide advice and support to the existing community group in helping them to bring forward their ambition to commission, build and own a Cohousing project of 15-22 homes in Sheffield. Five Rivers were an established community group and had a well organised decision-making structure. The group had around 10 members at the time of our appointment. However, the group did not have a site.
Our first role included a review of their project and client brief. We then organised a land search which resulted in the group identifying three options. A preferred site was identified in 2020 which was owned by the Sheffield City Council but being sold to a private developer. Through our support Five Rivers Cohousing obtained detailed planning permission and completed a land and build contract with the private developer, Oakworth Homes.
Using our experience of setting up and delivering the Cohousing project at Marmalade Lane, Cambridge, we were able to offer the following key services which included:
Reviewing the Group's general brief and creating a Client Brief
Advice on recruiting new members
Providing project management advice to the members
Advice on selecting a professional team
Organising the site search
Negotiating a land and build deal with the private developer partner
General advice on building design, planning and building contract issues
Advice on the formal contractual arrangements
Advice throughout to members on viability, governance and legal issues
Managing the constructor negotiations to a successful conclusion
The land deal was completed in October 2022 and construction with local builders Oakworth Homes will commence in November 2022. The project which uses a highly sustainable timber frame system from partners Oakworth Timber Frame will produce homes of high-quality design (Benchmark Architects) and which will be very energy efficient lowering fuel bills and reducing the scheme and its Cohousing resident's impact on the environment. The homes will be completed late 2023.